Wuhan – The Land of Never-Ending Food and Fun!
To book for activities in China click here
Wuhan offers an incredible array of exotic food for all to enjoy.
A variety of breakfast foods known locally as xiaochi is among the favorites here and the best place to try it is hubuhank in Wuchang. And don't forget to sample some Reganmian, a delicious blend of noodles and peanut sauce, tossed in sesame paste and many other Chinese seasonings. No vacation is complete without sampling the local cuisine and Wuhan offers the hungry traveler some of the best cuisine available!
Endless Choices
You will never eat the same meal twice in this incredible city! One of the best places to sample authentic Chinese food; available right on the streets of Wuhan. Delicious dumplings and noodles, authentic Asian wok food and the well known foies gras are but a few examples. Relax, sit outside in the cool night air and enjoy.
After that perfect traditional dinner, what better way to spend the rest of the evening than to explore the exciting bar scene of this amazing city? Here are some of the best places to go that will truly make your vacation unforgettable!
VOX live house
The most popular tourist bar in all of Wuhan! Vox is a small place which has live shows on the weekends featuring rock, punk, experimental, and indie music. Very reasonable priced and perfect for the younger crowd.
Grammy International
An international club offering the very best in Hip Hop, Rap and RNB. Check it out!
Sawa
Well known for its incredibly wide range of drinks. Includes lot's of foreign food and very inexpensive. Sawa opens in the afternoon and is the perfect place to start the party.
Helen's Café
Awesome fun here and you can even play your own music! Wednesday is Ladies night and the pizza is great.
Topone Bar
No vacation would be complete without a visit to this traditional Chinese bar. Live entertainment, plenty of tables and a dance provide a good time for all.
Jianghan Riverside Club District
This complex is awesome and is home to many Chinese style nightclubs! There are dance floors and lounges galore and sometimes they stay open until 4 in the morning! Many visitors like to travel across the river to Hubuxiang for an early breakfast.
Burton / La Provence
Where do you go after all of the other places have closed for the evening? This is definitely the place to party and is a favorite amount the young Chinese students. Pizza and coffee are also offered here during the day and it is perfect for the smaller travel budget.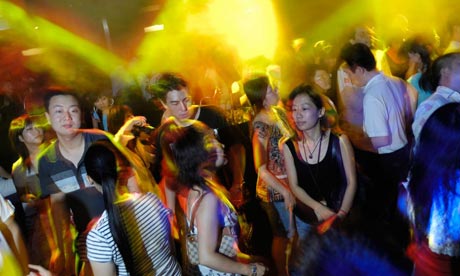 Toucan
An Irish bar with an upbeat atmosphere and Guinness on tap! Toucan is located in the Holiday Inn on the ground floor and has a pool table as well. Good clean fun with a touch of class to complement any vacation itinerary!