Travel Guide: Cuisine in Lanzhou

To book for activities in China click here

Lanzhou's distinguished cuisine is unlike any found in axial China due to its hotpot of multi-ethnicities.
There are Western spots dotted around the capital, such as UBC Coffee House on Zhongshan Road however, to paraphrase the old saying, when in China eat as the Chinese do. Chinese food in the West is a mockery of this country's delicious fare. For those venturing to the orient for the first time, prepare to be dazzled. Lanzhou is most renowned for its beef noodles, comprised of a healthy serving of tender beef, hand crafted noodles and clear, spicy borscht. This dish alone is enough to make tourists venture out on vacation, however there are many other unique dishes that deserve mention.
Baihe Tao, meaning lily peach, is aptly named as the end result looks like peaches. Lilies are steamed and filled with sweet bean paste, further steamed for 20 minutes and delivered with a side of sugary dip. On Silk Road it is possible to try one's first taste of camel, be it the nourishing hooves or more rich hump, which is slightly reminiscent of beef.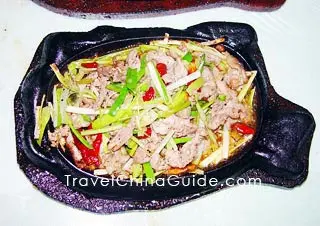 Eight Treasures Melon Carving is an intricate dish, whereby etched melon rinds are used to contain cherries, pineapple, longans, and other local ingredients including some fungi. Lanzhou's decorative answer to the fruit salad. For those who find the idea of this fare too challenging there is always Lanzhou roasted pork, barbequed mutton and lamb, which are seasoned to perfection and more in keep with Western palates, plus don't forget about the noodles; China's gift to the world. Sichuan dishes are available too from Baijiaxing Tutanzi Minsu Restaurant or Xiangpiafang Hotpot Restaurant, so make your way to those for a spicy delight.
Jinyu Facai is another celebrated dish from Lanzhou, and for those foodies out there it is an absolute must. It is comprised of local fungus, chicken and egg whites, seasoned with salt, sesame oil and cooking wine and finally served in a broth. It is truly delicious, and though the name in Chinese suggests it will contain fish it is only called this due to the appearance of the cooked dish. Wine is the best accompaniment with this particular plate, however when dining on some of the other local delicacies try some of the beers Lanzhou has to offer. Tsingtao is the most renowned beer to come out of China, however also available are Huanghe and Wuquanshan beer, all refreshingly crisp but with their own unique flavors.