The Heaven Above Smiles on Hangzhou Below

To book for activities in Hangzhou click here
China's old city of Hangzhou has long been one of the country's most prosperous urban areas—the word "long" here meaning the past 1,000 years.
It sits in the Yangtze River Delta, right where the river spills out into the sea at Hangzhou Bay, giving it economic power.  This is also the reason why Hangzhou has beautiful natural scenery, inspiring generations of Chinese artists and poets.  If you're planning a vacation in Hangzhou, concentrate your travel on the best the city has to offer.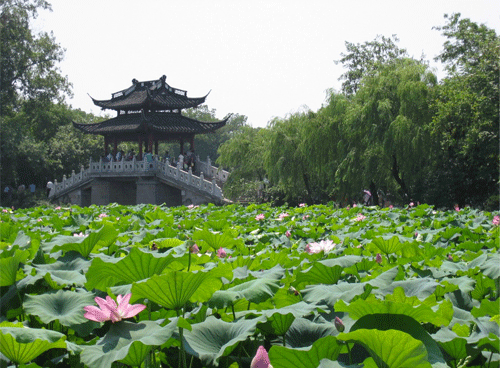 West Lake

This is the city's main attraction, and a UNESCO World Heritage site.  West Lake is a body of fresh water in the oldest section of Hangzhou surrounded by gardens and natural growth, and hemmed in by nearby mountains. The lake has continually been dredged and modified over the centuries under the passing imperial dynasties, both to irrigate local farmland as well as for aesthetic purposes.

Some of China's architectural treasures dot the lakes shores, and you can spend nearly your entire Hangzhou vacation exploring these alone.  Look out for its most notable features, like Baochu Pagoda, Jingci Temple, Leifeng Pagoda, Misty Trees by Nine Streams, and the Yue-Wang Temple.  Travel to the West Lake Museum by the lake shore to glimpse a summary of the site's cultural heritage, then travel to the nearby Long Jing tea farms to buy pan-fried green tea or "China Famous Tea."  (You can also buy this on Old China Street on He Fang Street in Hangzhou.)
Qiantang Tidal Bore

Here's another Hangzhou curiosity: the world's largest tidal bore. That's a sudden rise of the ocean tide in the form of a large wave.  The largest is found in Hangzhou's Qiantang River, were the sea water from the adjacent Hangzhou Bay is naturally funneled through the narrow mouth of the river—preventing a gradual rise in water levels.  Thus, the tidal bore daily rushes through Qiantang, rising anywhere from 15 to 30 feet high, and traveling at 25 miles an hour. Locals call this tsunami-like wave the Silver or Black Dragon. Watch it from a distance, but don't ruin your vacation by surfing in it!
Xixi National Wetland Park

This is China's only national wetland park, about 2,800 acres in size.  Made up of six intercrossing watercourses, it's not just a sight for wildlife, but cultural heritage area as well.  Travel here and you'll get to see Hangzhou's favorite fauna (egret, geese, kingfishers, mallard ducks, the Silver Pheasant, and carps). Visit the little villas and manors by the water's side, like the Plum and Bamboo Manor, the Plum Villa, XiXi Thatching, and Anchorage Thatching. Don't miss the annual Dragon Boat Contest here, launched at Deep Pool Mouth.