The Best of Scandinavia
To book for activities in Norway click here
You may think that the Scandinavian climate is freezing all year long thanks to its proximity to the Arctic Ocean but surprisingly, its weather is generally pleasant and mild, allowing tourists to make the most out of their Scandinavian adventure. To help you get started with your journey, here are the top things you must not miss when traveling to Scandinavia.
The Northern Lights in Norway
This is the one phenomenon you must squeeze in your Scandinavian itinerary. Also known as the Aurora Borealis, the wonderful display of lights is visible only on polar regions. It's an effect of solar wind particles that are trapped in the earth's magnetic field. These lights are "activated" when the particles crash through the planet's atmosphere. The best spot to view the amazing lights is in Tromso, Norway.
Iceland's Blue Lagoon
Near Iceland's capital in Reykjavik lies a relaxing thermal pool called Blue Lagoon. The lagoon's temperature is warm and pleasant all year long so no matter what time of the year you visit, you're always assured of a nice, soothing dip.
Danish Royal Gardens
For a moment of peace and solitude, visit the wonderful royal gardens located near Copenhagen in Denmark. Away from the hustle and bustle of city life, the French-inspired castle gardens offer a relaxing retreat that will surely calm weary souls.
Sandy Beaches
If you're already missing the tropical beaches and craving for some sun, then there are a lot of options for you here in Scandinavia. From the Swedish Riviera to the Paradise Bay in Norway, who would have thought that the area can also compete in the sun and sand category? To fully enjoy the shores, the best time to go beach-hopping is from June to late August.
Whale Watching in Norway and Iceland
An amazing whale safari awaits you in Norway and Iceland. This has been a very popular tourist activity, that's perfect for a family getaway. For the brave-hearted souls out there, special whale safari packages are available that lets you swim with the whales for a period of time.
Guided Tour in Stockholm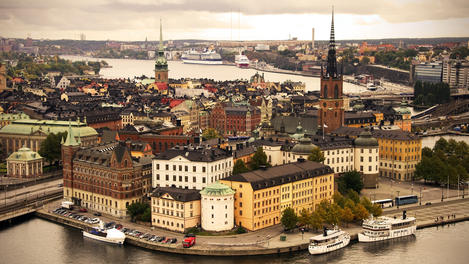 Sweden's capital city boasts of so many interesting sites that are rich in history. To maximize your time here, sign up for a guided tour that will take you to the most photographed spots within the city. You'll definitely have tons of pictures to upload in your Facebook account!
These are just some of the most beautiful spots you can visit in Scandinavia. The region boasts of not just magnetic lights and icy destinations, but amazing beaches and breathtaking castles that will make your stay here truly unforgettable.