Exploring Nanning City
To book for activities in China click here

Nanning City is the capital of Guangxi Zhuang Autonomous Region in southwest China.
It is a big, modern city as well as a transport gateway for travelers going to and coming from Vietnam. Relatively, Nanning is a generally safe city but newbie travelers should be aware that petty robberies are frequent here. Notorious pick-pockets are very sly, so keep all valuables in a secured compartment of your bags. Don't go about easily making deals with vendors, you are most like to be swindled by con artists. It pays to be extra careful while you are on a vacation in this city. You wouldn't want to ruin your chances of enjoying a remarkable visit to Nanning.
There are plenty of ways to do as you travel through the dynamic city. While you are here, you can learn a few Cantonese words from the older people or ask the younger generation to teach you Mandarin. Nanning is regarded as one of the most successful cities in China in terms of popularizing Mandarin. Therefore it is the best place for foreigners to learn Putonghua. Putonghua or standard Mandarin is the official national language of the People's Republic of China.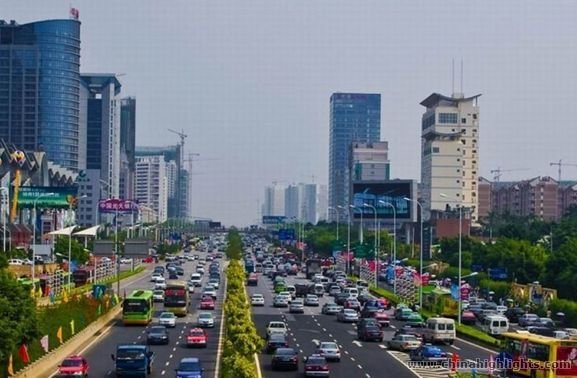 You can go about the city by riding local buses. For a more convenient travel, taxis are also accessible. For a more fun ride, another way of getting around is a three-wheeled buggy that resembles a motorbike with two seats. You wouldn't want to miss that while you are vacationing Nanning.
The Nanning Bird and Flower Market at Yuanhu Road is an incredibly interesting place to spend the afternoon and buy good-value items. You will find an assortment of flowers, shrubs, pot plants and other floral sorts, as well as a vast array of birds, fish, and other pets. There are also household goodies available like furniture fashioned from tree stumps, traditional Chinese tea sets, carvings, wall hangings, among others.
Head for Chao Yang Lu which is the main shopping street lined with different department stores like Nanning Department Store, Walmart, and other local and international retailers. It is also a good place to go people-watching if you are not into shopping. Sounds like fun, right?
For a more the cultural and nature adventure, you can to go Guangxi Museum located at 34 Minzu Dadao. Take a few pictures over at White Dragon Park at Renmin East Road or have a fantastic view of the Tak Tin Waterfall and Yi Ling Yan. You will love to see the bonsai and orchid gardens at South Lake located at Gucheng Road.