Breeze Through Batanes, Home of the Winds

To book for activities in Philippines click here
The Philippines is not just about sun and sand,
Swimming and tanning. Adventurers who are looking for a break from the dynamic recreational activities of this tropical land, can find serenity from the country's Home of the Wind, Batanes. Just like any other trip, a visit to this cool and windy paradise needs adequate preparation and research. It pays off to do reservations as flight and accommodations are limited.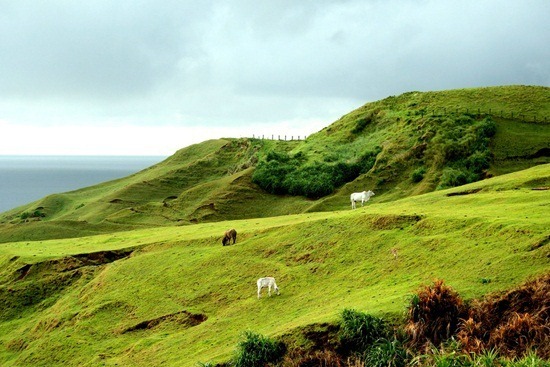 As a place that caters a panoramic view of the converging Pacific Ocean and South China Sea, there are many poster-card-worth spots. Batanes has three habitable islands that can be explored by tourists - Itbayat, Batan and Sabtang.

Batan Island
The island has several spots worth touring around. The Marlboro Country is a reminiscent of the Marlboro cigarette commercial, thus the given name. It shows the breathtaking view of farm fields and Pacific Ocean.  A glimpse of history can be seen in San Carlos Borromeo Church and San Jose de Ivana Church that display the glory of baroque architecture. Both churches were built during the 19th century. San Carlos Borromeo Church is listed as one of NCCA's National Cultural treasures. The oldest lighthouse in Basco is just within the Church's perimeter. The lighthouse, which also happens to be the smallest one in the said place, still uses lamp for its lighting purpose.
Probably the only unmanned shop in the world can be found in Batan in the name of Honesty Café. The café is a test of honesty to all its customers as they are left to purchase and pay the items on their own. All is set. All items come with a price tag. There is a pad that lists the purchases and a drop box for the payment. Hot water and cups are also available for coffee drinkers. All is available except for a store attendant.

Upon arriving at Radar Tukon, visitors will be greeted with a pleasant 360-degree scenery of the island. This weather station situated on a hill gives its tourists a view of Mt. Iraya, Rolling Hills, Pacific Ocean and South China Sea.

Sabtang Island
Because turbulent storms frequent Batanes, stone houses are common in the place. Savidug features lime stone and coral houses one after the other giving the town a picturesque view.Tourists can visit the beach near Savidug Church, where the houses' foundation (limestone) is cooked.The beach also offers a view of the Sleeping Beauty, a mountain resembling a sleeping lady.
Visitors can observe the actual creation of Talugong and Vakuls, protective headgear worn by men and women respectively from nature's harsh elements, upon entering the Town of Chavayan. Vakuls are made from the leaves of Palm Dates.

Often compared to the beauty of New Zealand, Batanes is a perfect getaway from the hustle and bustle of city life.