8 Most Breathtaking Castles in Europe

To book for activities in Europe click here
Your European trip will never be complete without making a side trip
to the most famous and spectacular castles across the continent.
Whether they're home to cruel vampires or the setting of epic love stories, castles have always played an important role in the European monarch history. Here we'll list down eight of the most breathtaking castles in the whole of Europe.
1. Château de Chenonceau, France
Built on river Cher, the Château de Chenonceau offers beautiful sights and the castle's reflection in the water adds to its charm. Inside, visitors will be amazed with the massive collection of Renaissance furniture, masterpieces, and other works of art.
2. Neuschwanstein, Germany
One of the many "fairy tale" castles in Europe is the Neuschwanstein, which was the inspiration of several movies and establishments such as the Cinderella Castles in Tokyo Disneyland and the Sleeping Beauty Castle at the Disneyland Park.
3. Miramare Castle, Trieste, Italy
A cliff and a seashore park are features that add a romantic look to this classic castle. The grounds of Miramare Castle was also re-landscaped to incorporate tropical plants that adds beauty to the castle's facade.
4. Prague Castle, Czech Republic
Not only is this the largest castle in the entire planet, it's also of the most beautiful in the Eastern European area. Elegantly-looking especially during the night, the Prague Castle is also home to several museums. As this is situated beside other tourist spots in Prague, a half-day tour is recommended to fully enjoy the place.
5. Peles Castle, Romania
Perched atop the mountain town of Sinaia, the Peles Castle is a visual delight thanks to the mix of architectural styles incorporated in each of the structures. To get to the castle, you only need to take a train from Bucharest and alight at Sinaia.
6. Burg Hohenwerfen, Salzburg, Austria
Located between the Hagen and Tennen mountains, the Burg Hohenwerfen Castle in Salzbug, Austria is what one can truly call a fairy tale castle. The facade of the castle looks so amazing amidst the mountains that the producers of The Sound of Music incorporated it in the background of "Do Re Mi"
7. Alcázar of Segovia, Spain
Rich in history, the Segovia Castle was the preferred residence of the monarch during the Middle Ages. Today, it's now one of the most sought-after tourist destination in the country.
8. Edinburgh Castle, United Kingdom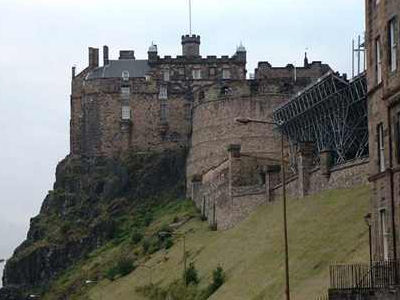 This is one of the few remaining castles in Europe that still have a military garrison. Standing atop the Edinburgh Castle, you are guaranteed of a splendid 360-degree view of the surrounding area.
These are just eight of the hundreds of amazing castles that you can spot when visiting Europe. Practically every country in the European region has one so don't forget to include that in your itinerary!